Retail Distribution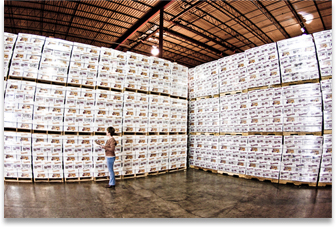 The Sullivan Companies has built an enviable reputation through years of dedicated service, providing the fastest, most economical, most secure, most complete consolidated retail distribution system in the Northeast. The Sullivan Companies is family-owned and operated which means that the Sullivan name backs up every shipment, big or small – no matter its destination – down the road or around the globe. It's a point of pride with us.
The Sullivan Companies is a Class One Common Carrier, with 75 highway-ready tractors and 350 trailers, stationed at a modern, fully-equipped 102 door terminal. Sullivan is strategically located in Springfield, Massachusetts at the intersection of Interstates 90 and 91.
Our single terminal concept assures safe, single-handling and rapid delivery. Our claims ratio is less than 3/10 of 1%, and the bulk of our business is based on overnight delivery. That's super performance, and our many regular retail distribution company customers know that they can depend on it.
The Sullivan Companies terminal is open 24 hours a day, from 8:00 p.m. Sunday until 9:00 a.m. Saturday. This enables us to provide direct, overnight service to and from just about any city in New England, New York State, New York Metro area, New Jersey and Eastern Pennsylvania.
Our consolidation-distribution system keeps things moving in high gear with less handling, higher security, more accuracy and better organization.
The Sullivan Companies has maintained a consolidation-retail distribution operation for many years. We know it inside out. And our single terminal concept reduces costly delays, as well as loss and damage en route to destination on truckload and/or less-than-truckload shipments. Here's how it works: Freight received by midnight departs the following morning for New England, New York, New Jersey and Eastern Pennsylvania. Freight picked up for consolidation is returned to our terminal for sorting, segregation and manifesting, and it ready for shipment by midnight the same day!
Administrative and security personnel are on duty 24 hours-a-day and experienced supervisors are assigned specifically to your account, making sure you get fast, efficient, personal service all along the way.
Program Highlights
Class One Common Carrier
Located at the intersection of Interstates 90 and 91
Fully-equipped 102 door terminal
Experienced management staff
24 hour guard service coupled with a robust camera surveillance system
Single terminal handling for better control and overnight deliveries
75 highway-ready tractors and 350 trailers
Inside account manager for program management
Claims ratio less than 3/10 of 1%
Single source for operational communication
Daily service reports and manifest reports
All tractors equipped with mobile communication
Ability to move part loads to distribution points
EDI needs fulfilled
Large outside warehouse for special projects
Specialized equipment to meet your needs. Hydraulic tailgate trailers available
Window deliveries available upon request